Resurgent demand for intra-Asia trade into India seems to have pushed short-term container freight rates on the route noticeably higher in recent weeks, recovering from the lows seen over the past few months.
According to market data from local freight forwarding sources, average rates for bookings from Central/North China to India grew 20% to 40% this month over August levels.
For example, Shanghai-Nhava Sheva/Mundra rates have hit $500 per teu and $600 per feu, up from $425 and $450, respectively, three weeks ago. Carriers are said to be quoting $550/teu and $600/feu for Tianjin shipments to Nhava Sheva/Mundra, versus $425 and $450 through August.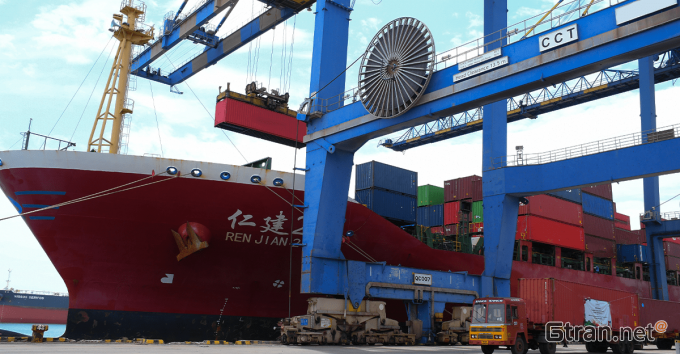 Similarly, South China (Yantian)-West India rates have seen a 25% month-on-month increase, and now hover at $500 per teu and $550 per feu, data shows.
For trade between China and southern India (Chennai), rates have spiked to new highs on the import leg. Forwarders put September rates at $1,100 per teu and $1,200 per feu for loads from Shanghai to Chennai, and at $1,150 and $1,250, respectively, for Tianjin-Chennai bookings. Corresponding August rates on the same port pairs stood at $1,000 per teu and $1,100 per feu, and $1,050 per teu and $1,150 per feu.
Stronger import flows into India have encouraged both regional and deepsea carriers to open a flurry of intra-Asia connections in recent months, mostly out of the Chennai region.
The new network additions include a weekly joint loop by Sinotrans, TS Lines, SeaLead Shipping and SITC. Branded the Far East India Express (FIX1), the five-vessel connection had its first call at DP World Chennai this month – arguably a watershed moment for the terminal as it deals with heightened competition from nearby Adani Group-led emerging rivals, particularly Kattupalli port.
DP World Chennai said the FIX1, featuring fewer port calls, offered an eight-day shorter transit than other available connections between Chennai and China. It has a port rotation of Qingdao-Shanghai-Ningbo-Shekou-Chennai-Visakhapatnam-Port Klang-Shekou-Qingdao.
"This pioneering initiative not only strengthens the ties between India and East Asia, but also underscores our commitment to enhancing supply chain efficiencies, reducing transit times, and supporting economic growth," said Ravinder Johal, DP World Subcontinent's COO of ports and terminals for the MENA region.
"Moreover, this service will set new benchmarks for reliability, speed, and resilience for the Indian exporters exploring newer markets across the East Asia region and beyond," he added.
A Chennai terminal official told The Loadstar the market had a host of new players betting on the intra-Asia tradelane, adding: "Everyone wants to grab a slice of the Asian import pie."
Corroborating the changing backhaul-headhaul trade dynamics, inbound volumes at Chennai port exceeded export loads between April and August, with combined Chennai imports at 347,795 teu and exports at 302,558 teu.
According to industry sources, manufacturing activity in and around Chennai has gathered pace, propelled by trade diversification revolving around the much-publicised China plus-one sourcing strategy of western importers.
Rajesh Srinivasan, India country manager at freight forwarder Dimerco Express Group, said the government wants to lift manufacturing's share of India's GDP from around 17.7% currently to 25% by 2025.
Speaking on the latest episode of The Freight Buyers Club podcast, Rahul Kapoor, global head of Shipping Analytics and Research at S&P Global Commodity Insights, said that although India would not replace China as the workshop of the world, it would make market share gains at China's expense in the years ahead as manufacturers diversified production to bolster supply chain resilience.
"Supply chain diversification is not a fad anymore, it's actually happening, and it will continue to accelerate," Mr. Kapoor explained.
However, Indian export rates on intra-Asia trades have continued at rock bottom levels – some carriers are accepting bookings for several Asian ports, including Shanghai, Hong Kong and Singapore, for as low as $5 per teu, which in reality is a token contribution to the cost of repositioning boxes to origin or demand locations.