Turkey's MNG Airlines is looking to acquire an airline in the US or Europe, it told potential investors yesterday.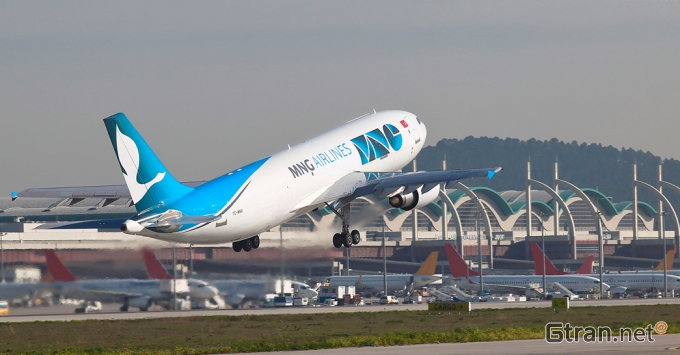 And Freightos is not the only logistics company looking to go public via a SPAC – MNG is hoping to become the third Turkish company to be listed on the New York Stock Exchange, via a merger with Golden Falcon Acquisition Corp, a 'blank cheque' company founded in 2020.
The deal is expected to close in the first half of next year and trade on the NYSE under the ticker MNGA.
MNG's investor presentation noted that the carrier was "actively evaluating M&A targets with an air operator's certificate in the US", and in the EU "including Germany and the UK". It was also looking to buy warehouses in the US and Europe, it added.
While Golden Falcon seemed excited by the prospects in air cargo, many of MNG's arguments to investors were based on what the market has been like, rather than the doldrums in which it currently wallows, and the potential 'normalisation' next year.
It pointed to the decrease in the use of bellyholds to just 30% of the market, down from 50%, without noting that the ratio is likely to return to 50:50 next year. It claimed delays and congestion in shipping were increasing the use of air cargo, which is no longer true, and said demand for consumer products was increasing. And, longer-term, it pointed to e-commerce growth and the need for more freighters.
It also compared itself favourably with ATSG and Atlas Air, noting that MNG's CAGR was 37%, against ATSG's 10% and Atlas's 20%. And it pointed to the diversification in its business model, with scheduled and BSA volumes making up 39% of revenues, charter at 41%, ACMI at 10%, and warehousing at 9%.
Atlas may be surprised to know it has no revenue from scheduled operations, according to MNG, and no diversification of revenues either, apparently, with 96% of its revenue coming from "airline operations". (By the same metric, MNG too would have 91% of revenues from "airline operations")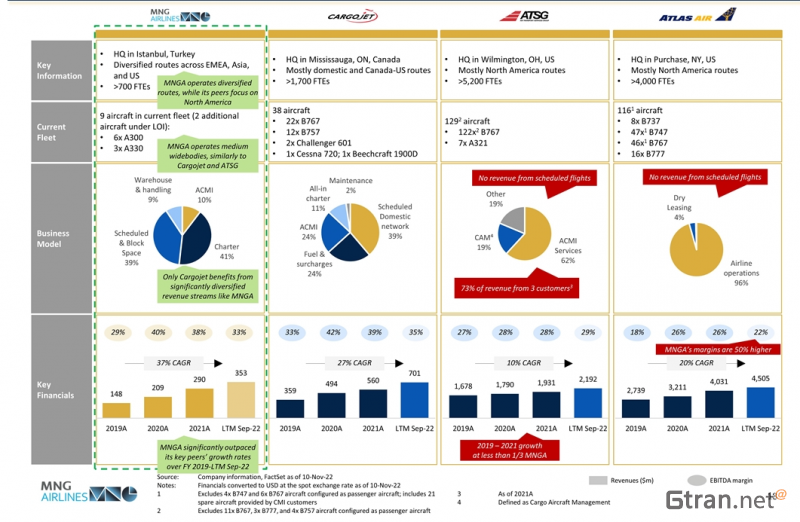 The proforma enterprise value of the airline is $676m, a multiple of 5.8x ebitda. The airline said in its investor presentation this was a 30% discount on its nearest competitor, Cargojet, Canada's 35-strong freighter operator.
MNG has nine aircraft in service: six A300s, with an average age of nearly 30 years; and three A330s (13 years). It owns three of the A300-6000Fs, with the other three on lease until 2024. It owns one A330, leased one last year and one more this year, on leases until 2027 and 2028. It also expects two A3210200P2Fs to arrive in its fleet in 2023 and 2024, on eight-year leases.
Investors are, of course, looking for signs of significant growth – and MNG has focused on revenue growth.
MNG has, along with other cargo airlines, had a good couple of years and likely wants to list at the height of the market while its financials still look good. In 2019, it had net income of $6.4m, on revenues of $147m. This jumped 600% in 2020, to net income of $44.86m, and rose another 4% in 2021. Calendar year-to-date (to September) net income is $50m, up 38% on the same period last year.
Famously, SPACs are having a tough time. Up to mid-October this year, according to a great article in Quartz, the number of new SPAC listings was down 74%, year on year, while the number of mergers was down by more than a third. But MNG seems confident.
Makram Azar, CEO of Golden Falcon, said: "We screened over 500 companies and conducted in-depth due diligence on many, and our process resulted in identifying a company that offers the market a differentiated, high-quality business.
"We believe MNGA is an exceptional opportunity among deSPAC business combinations, with a strong growth profile, profitability, cash flow generation and priced at what we believe is the lowest ebitda multiple of any business combination closed to date in 2022 – which is why we believe it is such a compelling investment opportunity."
CEO Ali Sedat Özkazanc wrote in a letter to staff that the airline "had long been ground-breakers", but also warned them not to speak to anyone about the deal or the airline's financial performance – including their families – while the transaction completes.