Maersk claimed to have inaugurated a new age of shipping today after officially launching the world's first methanol-powered container vessel.
The 2,100 Laura Maersk was christened by EC president Ursula von der Leyen at a quay beside Maersk's HQ in Copenhagen this morning.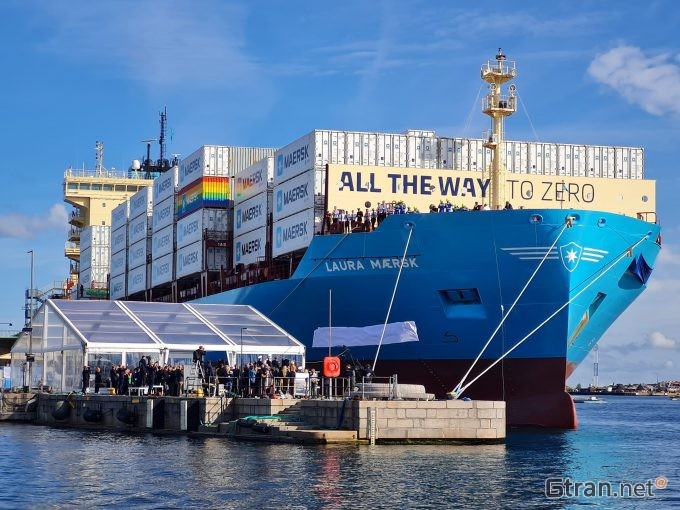 Robert Uggla, Maersk group chairman, said: "It's fairly modest in size – this feeder is only 10% of what the largest containerships can carry, but it's importance and impact transcend its physical dimensions."
The ice-class vessel will formally enter service next month, joining one of the carrier's Baltic feeder services, with an expected port rotation of Bremerhaven-Kiel Canal-Helsingborg-Halmstad-Fredericia-Kalundborg-Kiel Canal-Bremerhaven.
Mr Uggla explained that the first ship to sport Maersk's light blue star was called Laura, and was a coal-fired steamship built during the 19th century industrial revolution.
"This Laura also represents an industrial revolution, but of a green character," he said.
"From January onwards Maersk will be taking delivery of much larger ships, and it is not just us – as I speak, more than 170 ships are either being built or retrofitted to sail on green methanol, including other types of vessels as well as containerships.
"Our ambition is that today is the beginning of a new green revolution in supply chains – the important question isn't how to develop new technology, but how to speed it up," he added.
The company has ordered 25 methanol-powered vessels in total, with 19 currently under construction.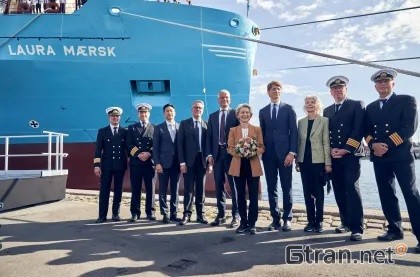 Photo: Maersk
Altogether, it is understood that some 125 box ships will be powered by green methanol within the next couple of years – other carriers that have placed orders include Evergreen and CMA CGM, both for more than 20 vessels, while X-Press Feeders has 14 newbuilds on order and non-operating owner Seaspan is set to retrofit 15 ships.
However, Mr Uggla also admitted that the supply of green fuels, including green methanol, remained a major threat to decarbonisation efforts.
"By 2030, Maersk Line alone will need 5m tonnes of green methanol a year – today, annual global production capacity is less than 100,000 tonnes," he said.
Maersk's current target is that 25% of its global fuel consumption should be met by green fuels by 2030, and the current lack of fuel supply will be a challenge for Laura Maersk from day one. Every five weeks the vessel will make an extra call at Rotterdam to bunker green methanol provided by Equinor, under an agreement set to run until mid-2024.
However, this morning Maersk's venture capital arm, Maersk Holding, also run by Mr Uggla, launched a green methanol production subsidiary, C2X, which is aiming to ramp up production of the fuel to reach 3m tonnes by 2030, and "is presently pursuing large-scale green methanol projects near the Suez Canal in Egypt and the port of Huelva in Spain, as well as other opportunities across several geographies".
C2X CEO Brian Davis added: "The green methanol industry is nascent and new technologies are emerging, and we will work hard to drive down our production costs over time. However, there is a strong customer pull and regulatory support, so we are confident that, together with our partners, we can deliver at scale."