The container market is "very far from being in disaster territory", according to OOCL parent Orient Overseas (International) (OOIL).
The Cosco subsidiary posted what it called a "robust" $1.13bn net profit for the half-year, which compares with a $5.7bn profit for the same period last year.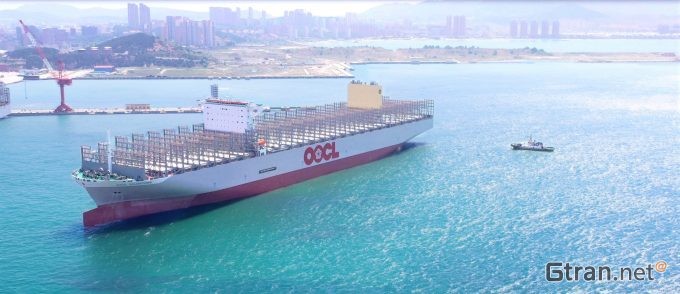 OOIL said the ships operated by its container arm were currently "sailing full" on the main tradelanes – although it was "cautious" on the outlook, "given the challenges and uncertainties that abound".
Group turnover for the first six months came in at $4.5bn, of which $386,000 was contributed by its logistics and supply chain management services.
Despite a 60% slump in its revenue, OOCL's carryings held up well, compared with some of its peers, edging down just 1%, year on year, to 3.6m teu for an average rate of $1,154 per teu, versus $2,874 for the first six months of 2022.
Intra-Asia and Australasia continues to be OOCL's largest trading region, accounting for 44% of its liftings, 1.6m teu, followed by the transpacific with 26%, at 930,969 teu, Asia-Europe's 21% and 811,654 teu and the transatlantic, representing 7% at 256,681 teu.
The transatlantic may be OOCL's smallest trade, but it was the only one showing growth, expanding by 20% on the year before, as the carrier upgraded its services on the route to increase market share in what it saw as a lucrative market.
"The long, steady decline in freight rates, which began around the middle of last year, continued during the first half of 2023," said OOIL, adding that the aggregate of the fall in freight rates had been "spectacular". But it said rates were, in general, back, "and in some cases above" levels prior to the pandemic.
Indeed, OOCL's competitors have reported similarly, albeit some say their operating costs have surged in the interim, by some 20% to 30%.
Cosco Group is the fourth-largest container line, with a fleet of 466 ships for a total nominal capacity of 2.95m teu. It also has a huge orderbook of 55 vessels for 910,000 teu, including a number of 24,000 teu ultra-large container vessels that will sail under the OOCL brand.
In the first half of this year, OOCL took delivery of two 24,188 teu vessels, the OOCL Spain and OOCL Piraeus, with more 24,000 teu ships expected within the next 12 months.
However, OOIL accepted that there were risks associated with injecting around 2.4m teu of newbuild tonnage over the next six to nine months. Moreover, it said there were "undeniable risks" related to the impact of higher interest rates on consumer spending.
Nevertheless, it said, there were indications that demand was improving and that "shipping companies are behaving rationally in the face of fluctuating demand", adding: "Certainly the market is very far from being in disaster territory."