With its huge orderbook of 122 ships, for a capacity of 1.24m teu, CMA CGM is on course to overtake Maersk as the second-biggest container line in the world.
And, with fellow Ocean Alliance partners Cosco and Evergreen having the third- and fourth-largest orderbooks – 927,000 teu and 840,000 teu respectively – the vessel-sharing group's total capacity will be immense.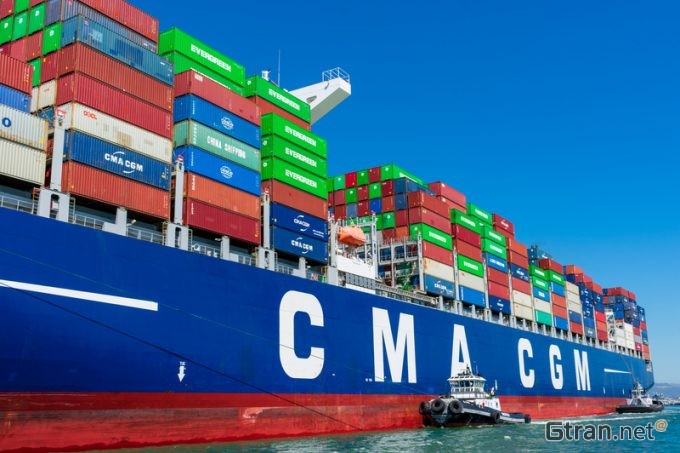 According to Alphaliner data, the French carrier now has an operating fleet of 625 vessels, with a total nominal capacity of 3.5m teu, compared with Maersk's 683 ships and capacity of 4.1m teu.
However, Maersk's orderbook is just 33 ships, with a capacity of 405,000 teu, as it concentrates on replacing tonnage with green methanol-powered vessels and continues its quest to become a global integrator.
"based on a projection of vessel deliveries, CMA CGM is expected to reach a fleet of 4m teu by the end of 2024 or in early 2025," said Alphaliner. "Assuming that half of CMA CGM's orderbook is for growth and half will be for fleet replacement, the carrier would stabilise at a fleet capacity of around 4.2m teu in late 2026."
This would lift CMA CGM above Maersk as the second-largest carrier after MSC, providing the Danish operator maintains its vow not to grow its fleet above the current level.
In addition to its massive orderbook of new tonnage, CMA CGM has been aggressive in the second-hand containership market and the charter market in the past three years, investing a significant amount of its pandemic-fuelled profits into organic growth.
Indeed, S&P broker contacts have told The Loadstar that, after MSC, the French carrier was the most proactive in the second-hand market, acquiring some 105 vessels since August 2020, according to Alphaliner data. The consultant said the nominal capacity of these ships is 427,000 teu, ranging in size from 1,000 to 14,000 teu.
Moreover, CMA CGM has dominated the charter market, with brokers fixing more than 170 charters for the French liner this year alone, well in excess of its peers, suggesting it has extra cargo requirements in its network while rivals are struggling to fill their ships.
In fact, many of the recent charters have been for smaller sizes, under 5,000 teu, deployed on its extensive network of secondary and niche services in Africa and Latin America. And the official incorporation of its intra-European shortsea subsidiary, Containerships, under the CMA CGM brand is expected to encourage further development of its shortsea routes and more hub-and-spoke feedering deploying its own tonnage.
Meanwhile, a substantial decline in carrier earnings for Q2 and a depressing outlook for the second half of the year could see the liner industry experience another round of consolidation, with the weaker lines unable to compete or resist the reach of cash-rich predators with their extensive networks of global trades.