With container spot rates from Asia to the Mediterranean having fallen below $2,000 per 40ft, Maersk has announced an increase in its FAK rates that will see shippers asked to pay $3,600 to some ports next month.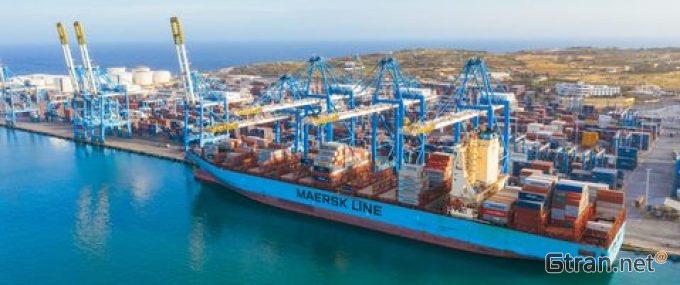 Ocean carriers have upgraded services and increased capacity on sailings between Asia and Mediterranean ports after demand proved more robust than for North Europe.
Indeed, Maersk said in June it was "proactively working on additional capacity to cater for customer demand" on the route, while 2M partner MSC had relaunched its Asia-Med Dragon service as a standalone loop, deploying 12 15,000 teu vessels.
South Korea's HMM will add to that capacity hike next month with a new China-India-Med service using 8,500-11,000 teu ships redeployed from the transpacific trade.
The extra weekly capacity already injected has resulted in a spot rate decline of some 20% since the beginning of June, with the Freightos Baltic Index (FBX) Asia-Mediterranean component shedding another 7% last week, to $1,994 per 40ft.
When Maersk announced a big rate hike in its Asia-North Europe FAK rates this month it warned that other routes across its network may be "subject to increases". Now the carrier is proposing new FAK rates on Asia-Med ranging from $2,300 per 40ft to Barcelona to $3,600 to Casablanca, with the same timeline as North Europe.
So the hikes will also be effective from 31 July and valid "until further notice, but not beyond 31 December".
So far The Loadstar has not seen rate increases from other Asia-Med carriers, unlike for North Europe where Maersk's FAK hike was quickly followed by a similar increase by CMA CGM. And it is still too early to say whether the strategy of asking for steep increases to obtain a reasonable percentage increase will work on Asia North Europe, given the trade's weaker fundamentals.
Moreover, the phasing-in of a number of newbuild 24,000 teu ultra-large vessels has increased weekly capacity on the route by an estimated 8%, year on year, adding downward pressure on rates.
With a subdued peak season expected, as North European consumers are squeezed by high inflation and consecutive interest rate hikes, carriers face being obliged to temporarily suspend loops, even laying-up some of their newbuild behemoths.
However, carriers would seem to have a fair chance of obtaining some quantum of FAK rate increase on the Asia-Mediterranean trade, based on the latest assessment by freight rate benchmarking firm Xeneta.
"Looking at contracts signed on the Far East to Mediterranean trade over the past 90 days, the data shows rates, while down on the same period a year ago, are holding up," it said.
"These rates are currently expensive when compared with those on the Far East-North Europe trade, when the two would normally be much closer," Xeneta added.