South Korean ocean carrier HMM is upgrading its coverage of the lucrative Asia-Mediterranean trade in August with a new standalone service.
Outside HMM's THE Alliance vessel-sharing agreement, which already offers three weekly loops, it will commence with the sailing of the 11,000 teu HMM Blessing from Busan on 6 August. The ship is currently deployed on a transpacific Asia to US west coast loop.
Moreover, HMM indicates it will be looking at launching more independent services as it seeks to grow its global box carrier ranking, while readjusting its network to mitigate softer demand on trades.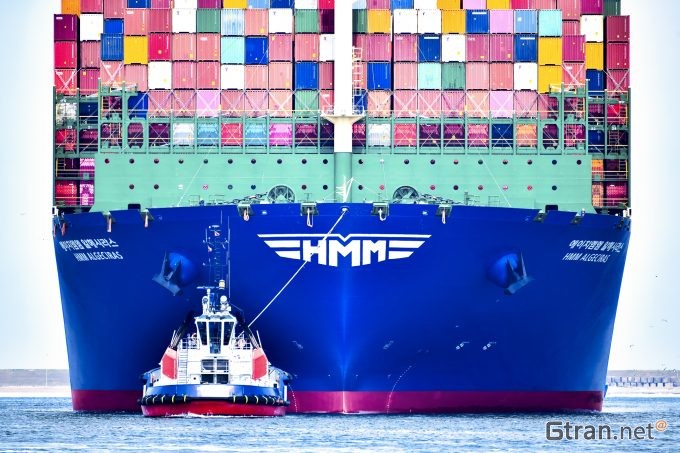 "We are expecting to extend our reach to the India and Mediterranean trades. We will continue to expand our presence in these regions and provide more reliable services with an enhanced service portfolio," said HMM.
The round-trip voyage will take 84 days and the new service, branded the FIM loop by HMM, will also feature calls at Indian ports. The full port rotation is: Busan-Kwangyang-Shanghai-Ningbo-Shekou-Singapore-Port Klang-Kattupalli-Nhava Sheva-Mundra-Karachi-Jeddah-(Suez Canal)-Damietta-Piraeus-Genoa-Valencia-Barcelona-Piraeus-Damietta-(Suez Canal)-Jeddah-Karachi-Mundra-Nhava Sheva-Kattupalli-Singapore-Da Chan Bay-Busan.
Healthy demand, ahead of what looks like a good peak season for the Asia-Mediterranean tradelane, has encouraged ocean carriers to add capacity to loops and launch new services to take advantage of container spot rates that are almost double those for North European ports.
Indeed, Friday's Freightos Baltic Exchange (FBX) Asia-Mediterranean spot component stood at an average of $2,227 per 40ft, compared with its reading for North Europe of $1,257.
Container rates for North Europe remain under considerable pressure, with anecdotal reports to The Loadstar of carriers touting rates below $1,000 per 40ft from China to Antwerp, Rotterdam and the UK.
Maersk said last week it was "proactively working on additional capacity to cater for customer demand" from ports in Asia to the Mediterranean, while its 2M Alliance partner, MSC, has already injected more capacity into the trade.
In the first show of differing strategies, following the announcement in January of the end-2024 disbanding of the 2M, MSC relaunched its Asia-Mediterranean Dragon service in March – a service which had been mothballed since the start of the pandemic – as a standalone loop deploying 12 15,000 teu vessels.
Concerns were raised at the time that this injection of extra capacity by MSC would send container spot rates in a downward spiral, but vessels have been running full on the route, with virtually no blanked sailings.
A recent analysis by freight rate benchmarking firm Xeneta compared the Asia-to-North Europe and Asia-to-Mediterranean trades, noting that spot rates on the latter were higher than agreed contract rates – the reverse being the case for the former.
Higher contract rates between Asia and North Europe "indicates a weak market, and one that may not recover anytime soon", said Xeneta. "The Mediterranean market is clearly the strongest at the moment."