With an order for two 650 teu newbuilds, A2B-online is demonstrating how feeder operators will deal with the IMO's CII cleaner air regulations: sidestepping them entirely.
To be constructed at the Sedef shipyard in Turkey, the new feeder vessels will be equipped with a methanol-capable propulsion system, as well as shore power and battery capacity.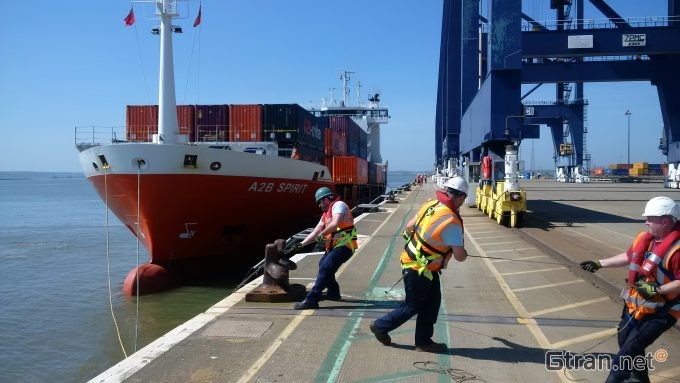 The order is welcome in the face of a recent collapse in orders for smaller vessels, despite unabating demand for them. Indeed, this week, Alphaliner suggests demand is very high for small second-hand tonnage, even very old ships.
The analyst reports that the 2001-built 1,662 teu Wan Hai 21 went for $7m and the 1,510 teu Wan Hai 281, built in 1998, sold for $6.8m. It added: "Given their age, both ships were initially thought to be scrap candidates, but they have eventually been snapped up by reportedly Chinese trading buyers."
A2B's fleet comprises seven 508 teu ships built between 1995-1998. Alphaliner said: "The increased size of the cargo hold [on the ordered ships], relative to A2B-online's existing vessels, offers double capacity without the requirement to increase the overall length of the vessel significantly."
The operating profile of feeders – running at higher speeds and spending more time in port than mainhaul ships – will lead to a disproportionately low rating under the primarily slow-steaming focused CII – an emissions "own-goal", as claimed in previous reports in The Loadstar, incentivising a modal shift to far-more-polluting road haulage.
Discouraged from investing in the segment, shipowners have also found that limited space at shipyards has been allocated to building larger and more profitable newbuild types.
But running on zero- or low-carbon fuel would allow feeder-size vessels to achieve a favourable CII rating, while continuing with the optimal operating profile that will allow them to compete with road transport. Some feeder operators, including Samskip, have been testing the possibility of using carbon-capture technology, as well as burning 100% sustainable biofuel.
Dinant de Jong, CEO of A2B-online, said: "With our new vessels, we will contribute to a more sustainable future and demonstrate that it is possible to combine freight transport and environmentally conscious operations."