Japan is enjoying increasing exports of fruit and fresh produce around Asia, helping sustain otherwise weak air cargo demand in the region as semi-conductor trade declines.
December saw an all-time high of fruit and vegetable exports, by value, up nearly 500% on the 40-year average, although exports in January, year on year, fell 15%. However, the following two months saw year-on-year gains.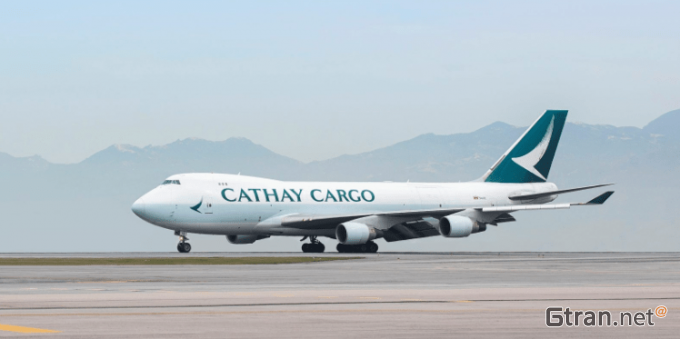 Cathay Cargo said the volumes were supporting its flights. Noting it was the "quieter season" for cargo, regional head of cargo for Japan and South Korea Shuichi Ueba said: "We are lucky that the appetite for Japanese fruit and fresh produce in Hong Kong and other parts of Asia remains strong.
"I'd like to thank people in Hong Kong, consumers in particular, for paying the premium for [Japanese] quality fruits. Even during the pandemic this demand remained high. We have just finished the strawberry season, and that will be followed by peaches, melons and grapes."
South Korea had similar ambitions to be a fruit exporter, he added, and it was "putting a lot of effort into developing fruit exports to Hong Kong and South-east Asia".
However, fruit exports are unlikely to offset the decrease in the semi-conductor and machine parts business.
"We recognise that demand for Japan's semiconductor and machine parts is quieter," said Mr Shuichi. "These are components needed by the auto industry and hi-tech manufacturers. Now, with inventories relatively high after manufacturers acted to ensure they would not again experience the shortages they did during the pandemic, it will take some time for these high levels to be digested.
"However, we are confident they will be and the outlook for exports of these products from Japan remains positive, especially after recent announcements on increased manufacturing capability being built in the country."
According to Trade Data Service: "Japan, Singapore, the US and Netherlands are the primary exporters of machinery used to produce integrated circuits. China, Taiwan, Korea and the US are the primary importers of semiconductor producing machinery."
However, last year China imported about 13% less than in 2021, it said, adding: "The declines have been particularly large since October and have continued through to the end of February."
With legislation in the US and Europe designed to boost domestic production of semi-conductors, Trade Data Service pointed out: "In future, there may be increased geographical diversity in global chip production."
Cathay's Mr Shuichi added that "demand continues to grow for semiconductor-printing 'stepper' machines" and explained: "There are three main pillars to Japan's exports – first is semiconductor production machinery; the 'stepper' machines that print 'wafers' filled with micro-processors.
"We move around 200 of these machines a year, with regular shipments around Asia and, recently, Frankfurt. The market is a bit soft at the moment, but we are seeing more 'power-semiconductor' steppers, which are less high-grade and produce chips for automotive or domestic appliances, rather than top-end IT machines."
He said the South Korean market was similar. "The top export is semiconductors because of Samsung, which produces these chips. Then there are a lot of electronic parts for consumer goods being exported."
Japan is served by 10 Cathay Cargo freighters a week – six to Narita and four to Kansai International (KIX) at Osaka, which fly to HKG via ICN – while Incheon receives three freighters and 24 passenger flights.
"This year has been about the normalisation of our operations in North Asia. Our freighter schedule is back to where it was before the pandemic," said Mr Shuichi, adding that Cathay was also seeing more aerospace business, in particular engines, as well as automotive business from Japan.
But, like elsewhere in the world, he is uncertain of demand in the rest of the year.
"It's not just us in Asia; demand is soft in many global tradelanes. It is usual at this time of year to start looking ahead for signs of a peak, but the market is much harder to predict this time around – and I certainly don't possess a crystal ball!
But, he added: "However, with new data tools available, we will continue to analyse the market for signs that inventories are starting to be replenished and, whatever happens, we will be ready for our customers."