CMA CGM has warned that its Q1 result, despite being substantially weaker than the same period in 2022, will probably be its best this year.
In an illustration of the formerly sky-high, now fast-dropping freight rates, a fall of just 5.3% in CMA CGM's Q1 volumes saw revenue plummet some 40%. Volumes fell, from 5.3m teu in Q1 22, to 5.02m.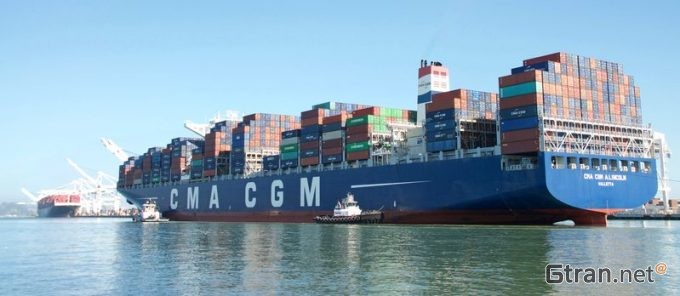 The findings are reflected across the board; forwarder John McCown calculating that revenues across the container industry fell to about $13bn in Q1 23, an alarming drop of 77.9% from the $58.7bn recorded in Q1 22.
But the drop in ebitda from CMA CGM's shipping activities was particularly grave, at 64%, when compared with Q1 22. And the carrier warned that worse was to come, with its first quarter likely be the best in 2023 "…as the group's financial results continue to return to normal".
CEO Rodolphe Saadé said: "After two exceptional years, our industry has entered a phase of normalisation, due to the slowdown in global growth, inflation and a de-stocking phenomenon that is continuing in many parts of the world."
However, the group's recent diversification strategy ensured that falling earnings across all business areas were not as severe as they might have been, with some $3.9bn of revenue made in Q1 logistics operations, a 14% year-on-year improvement.
The group not only owns Ceva and Gefco, but is incorporating Bolloré Logistics too, while other activities, including the new air cargo division and the controversial acquisition of French newspaper La Tribune, led to a small increase in group revenue of 5.3% in the first three months.
Mr Saadé added: "Despite this deteriorated context, our first-quarter results are extremely solid. They are the fruit of our investments – more than $30bn committed over the past two years – which enable us to constantly broaden and strengthen our range of transport and logistics solutions."
The CMA CGM results are broadly in line with expectations, as the pandemic effect on consumer spending and e-commerce wanes, and rising inflation eats into household budgets. Maersk Line warned last week that the traditional peak season would fail to materialise, thanks to low demand, and some forwarders offering rates as low as $1,000 per 40ft from Qingdao to Rotterdam.
Platts this week has North-Asia North-Europe box rates sitting at $1,175 per 40ft, yesterday quoting one source: "We are expecting markets to remain pretty stable moving forward, our rates are extended until June 14."
And unfortunately, Platts has bad news for carriers racing to redeploy vessels onto Asia-west coast Latin America routes. These lanes, which have been a boon to carriers adjusting to the 'new normal' of low rates, have fallen to $2,600 per 40ft, Platts reports, recording a loss of $300.