Already-growing perishable cargo demand out of India could see further momentum as air cargo specialist Worldwide Flight Services (WFS) looks to add sophisticated logistics capabilities at Bangalore Airport (BLR).
BLR is India's top air cargo gateway for perishables.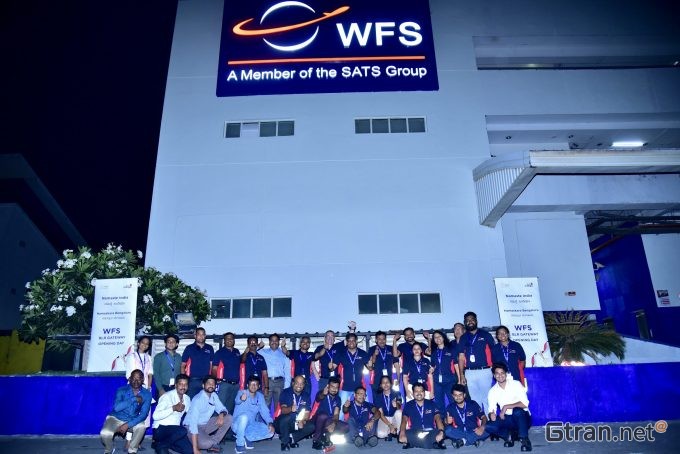 WFS, which Singapore-based SATS acquired last year, has taken over international cargo handling and cold chain operations at BLR under a 15-year licence deal, a move that reportedly follows the termination of a previous contract, with the UK's Menzies Aviation, after some legal complications.
"WFS will be responsible for the development, operation, management and maintenance of the international cargo terminal, and is also the exclusive operator of the dedicated cold chain facility at BLR," said the company.
WFS will invest in further expansion at Bangalore, aiming to expand airfreight capacity, from 210,000 tons to 250,000 tons a year, and cold chain capacity, from 80,000 tons to 150,000 tons a year, over a two-phase development plan.
Bangalore's perishable cargo volumes have seen strong traction in recent years as Indian shippers extend their export reach beyond traditional markets.
Much of the perishable trade, nearly 50%, out of southern India moves via Bangalore, given the scale of flight networks there. According to industry sources, fruit, poultry, agricultural produce and flowers comprise the majority of perishable air exports from BLR. In addition, the airport handles sizeable volumes of pharmaceuticals, medical equipment, ready-made garments, engineering goods, electronics/electrical components and spare parts.
Moreover, current industry reports for this corridor do not show any material signs of a potential modal shift from airfreight to ocean, unlike in other global markets, as sea freight rates tumble and container lines tend to offer "more for less".
"India is the sixth-largest global economy and the single-largest provider of generic drugs, globally," said John Batten, WFS EMEAA CEO. "We are confident we can add value to the Indian air cargo industry by introducing world-class practices, safety and security standards, sustainability and operational excellence."
Additionally, eyeing the growth potential, global express logistics providers have significantly expanded their ground-handling capabilities and networks out of Bangalore. DHL, FedEx and UPS now have dedicated gateway facilities.
BLR saw some 52,500 tons of perishable cargo in fiscal year 2021-22 and some 44,200 tons in the first 10 months of 2022-23, according to industry data. And e–commerce volumes received a boost when Amazon Prime Air set up a dedicated freighter service arrangement with BLR-based all-cargo airline Quikjet.
In addition, China's Sichuan Airlines recently began a scheduled freighter service on the Chengdu-BLR- Shenzhen route.
Joy John, director of sea and air freight at Mumbai-based freight forwarder Jet Freight, told The Loadstar WFS's entry could significantly boost cold chain logistics services for the Indian industry. However, he added, with no ocean booking cancellations or cargo rollovers around, airfreight players are not seeing the incremental volume gains that the pandemic-induced supply chain disruption had contributed.
Vineet Malhotra, co-founder and director at Kale Logistics Solutions, also believes there will be significant airfreight logistics yields from WFS offerings. He added: "A new major player entering the market would tend to build infrastructure that allows it to thrive in the long-run."
SATS, under its long-time JV with Air India, AISATS, has a presence across major airport locations in India, presenting some long-term synergistic benefits for WFS.