Maersk says it expects Q1 to be the strongest quarter of the year and prepares for breakeven trading for the rest of 2023.
The Danish transport and logistics group reported ebit/net profit of $2.3bn for the first three months, compared with $7bn in the same quarter of 2022, from revenue of $14.2bn. (For a more in-depth look at Maersk's results, see Loadstar Premium today.)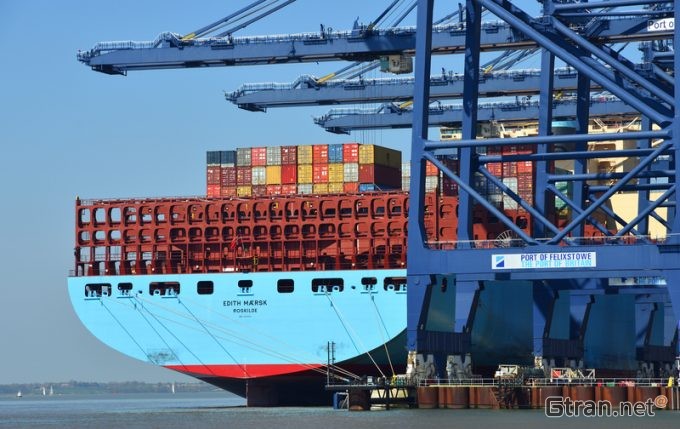 However, its full-year guidance is for an underlying ebit of just $2bn to $5bn, as lower contract rates and weak demand transition into loss-making voyages on some trades.
This morning Maersk CEO Vincent Clerc said there was no firm evidence of a demand recovery, and that the next quarters would be "the reality" of a challenging year.
He explained: "If you look at the guidance we have provided, and take out what we have delivered this quarter, at these levels the industry is certainly not creating economic profit. If you are very exposed to the spot market, and very exposed to east-west trades, you may actually be in loss-making territory."
Q1 freight revenue from Maersk's ocean sector slumped 37% on the previous year, to $9.9bn, as carryings fell from 6m teu to 5.4m teu, for an average rate of $1,436 per teu, versus $2,276.
Contracted volumes accounted for 67% of its liner business, and Maersk says it now has 75% of its annual contract customers re-signed – albeit at lower rates. It said: "Average contract rates for 2023 continue to trend towards spot rates."
Moreover, Mr Clerc confirmed that the line still had some 3.6m teu of business signed-up with its top 200 customers on multi-year contracts, explaining that they were index-linked and currently higher than the market, but would soon even out.
"They were also lower in 2021 and 2022, on what we otherwise would have achieved, and now it's a bit the other way, but they will converge over time with the rest of the contracts," said Mr Clerc.
On future strategy, post the 2M Alliance, Mr Clerc made it clear that Maersk would not seek to join another vessel-sharing grouping, explaining that the scale benefits had "basically, gone away".
He said: "We have grown organically to a size where today we can deploy, effectively, alone what an alliance would do about eight years ago. What the alliance has given us is scale economics; what it has not given us is flexibility. You have the disadvantage of being a 3PL, of having half of your customer promises riding on somebody else's ship."
Meanwhile, Maersk's logistics and services sectors took a hit from tighter margins in Q1, with ebit declining to $135m, from $183m last year, despite a 21% increase in revenue, to $3.5bn, driven by acquisitions.
Mr Clerc explained that the logistics services were "much more exposed to consumer consumption and inventory corrections" than the general shipping sector.
And Maersk's terminals also suffered in the quarter, as volumes fell and storage revenue declined. Throughput decreased 9.5%, to 2.8m teu, and revenue per move fell 14.5%, to $309. Total revenue was $876m, compared with $1.1bn the year before, for an ebitda of $291m, against $456m in Q1 22.