The number of ageing containerships being sold for scrap this year is well below analysts' predictions, the dearth of demolition candidates being underpinned by a strong charter market rally that shows no sign of slowing.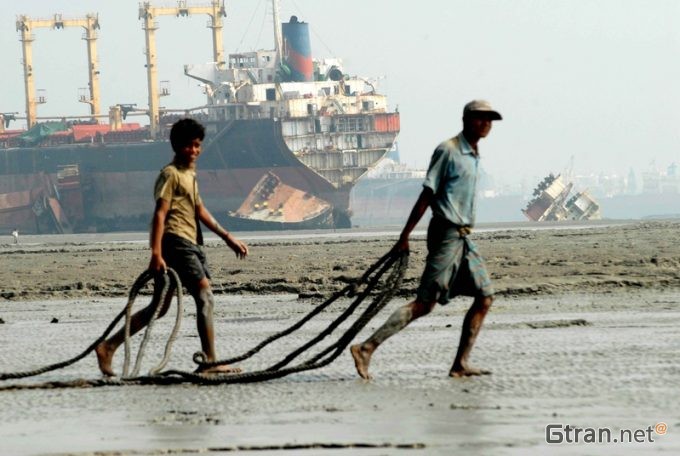 According to Alphaliner data, with over a quarter of the year already gone, just 28 cellular vessels, with a capacity of 48,555 teu, have seen their final destinations the beaches and scrapyards of the Indian sub-continent and Turkey.
This compares with the consultant's January estimate of a full-year demolition count of 350,000 teu. This, it said, would help mitigate the impact of 2.4 million teu of newbuild tonnage hitting the water this year.
It was expected that, following two years of almost no demolition in the sector, the collapse in freight demand, looming orderbook and uncertainties regarding new carbon regulations would prompt containership owners to cash-in assets after enjoying an extended period of extraordinarily high returns.
There was even talk in some quarters that demolition sales could reach the 2017 total of some 400,000 teu, or even the all time 2016 record of 650,000 teu recycled.
Alphaliner said the lower-than-expected demolition take-up so far this year was "mainly the result of an unexpectedly strong charter market, with some owners keen to prolong the commercial life of ships that would have otherwise been torched".
Indeed, the consultant added, there was "no end in sight to the current rally" in the containership charter market, adding: "Charter rates continue to rise steadily for most sizes of ships, while period employments are also getting increasingly long.
"Globally, the short-term outlook remains bright for NOOs (non-operating owners), due to a continued shortage of vessels across the board and strong demand," said Alphaliner.
Nevertheless, the consultant remains convinced that scrapping will increase in the coming months, "especially as the massive influx of newbuild tonnage puts rising pressure on tonnage supply, while the CII [Carbon Intensity Indicator IMO regulations] remain unfavourable for the least-efficient, older units".
Meanwhile, despite MSC's staggering raids on the S&P second-hand containership market, purchasing over 300 ships since August 2020, the carrier has been weeding out a few ships for demolition.
Alphaliner reports that MSC has recently sold three 1980s-built containerships for scrap, including the 1989-built 3,922 teu MSC Veronique, ex the Maersk Merritt, which has arrived at Alang, India.
However, MSC appears generally to have no concerns about the age profile of some of its fleet. According to Alphaliner data, it is the operator of the oldest containership in regular service, the 41-year-old 1,438 teu MSC Malin, which it has on a five-year bareboat charter, expiring in November 2024.
Its current value, according to Vesselsvalue, is $6.7m, both for sale and scrap.