CMA CGM has confirmed orders for 16 large containerships at state-owned China State Shipbuilding Corp.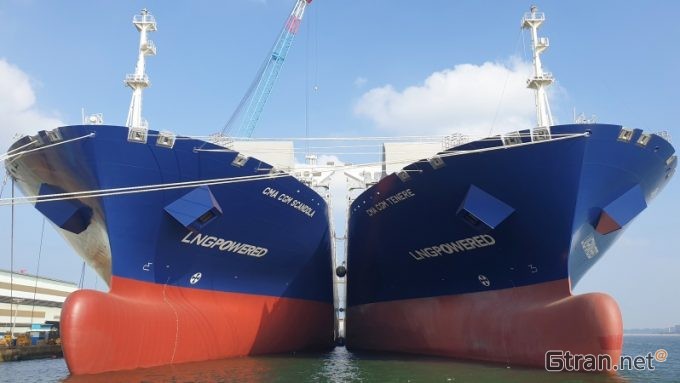 The order is for a dozen methanol dual-fuelled 15,000 teu ships, at $175m each, and four LNG dual-fuelled at 23,000 teu costing $175m each, and at $3.1bn is the larhgest order yet for the shipbuilding group.
Hudong-Zhonghua Shipbuilding will build the 23,000 teu ships and the 15,000 teu vessels will be equally split between Jiangnan Shipyard and Dalian Shipbuilding.
The carrier's chairman, Rodolphe Saadé, in China last week, said the newbuildings would replace CMA CGM's older ships after delivery in 2025 and 2026.
The 23,000 teu units are likely to be assigned to Asia-Europe routes, while the 15,000 teu ships could be deployed on transpacific trades and regional lanes such as Asia-South America.
Although container freight levels have returned to pre-Covid levels, the major box lines remain keen on ordering newbuildings powered by LNG and alternative fuels to help meet global decarbonisation targets set for 2050.
Chinese media reported that CMA CGM intended to order six to ten more LNG dual-fuelled 23,000 teu ships and is considering CSSC and Daewoo Shipbuilding for the additional orders.
Despite concerns of a tonnage overhang, Mr Saadé said he believed the global economy would grow 2% to 3% annually, and increased consumption should help fill the ships.
Ship databases indicate that CMA CGM has 96 containerships on order, many in the 13,000 to 23,000 teu range. According to the French group's 2022 annual report, it has invested $10.2bn to build 77 LNG-powered containerships, with 32 delivered so far.
While in China, Mr Saade concluded an agreement with Shanghai International Port Group (SIPG) to procure biomethanol and synthetic methanol. SIPG has similar contracts with Cosco and Maersk to supply methanol in Shanghai port.