The world's largest container shipping line, MSC, has taken delivery of the new world's largest box ship, in terms of capacity, the 24,346 teu scrubber-fitted MSC Irina.
The ULCV was delivered on 9 March with its slightly smaller sister vessel, the 24,116 teu MSC Tessa, also fitted with scrubber technology.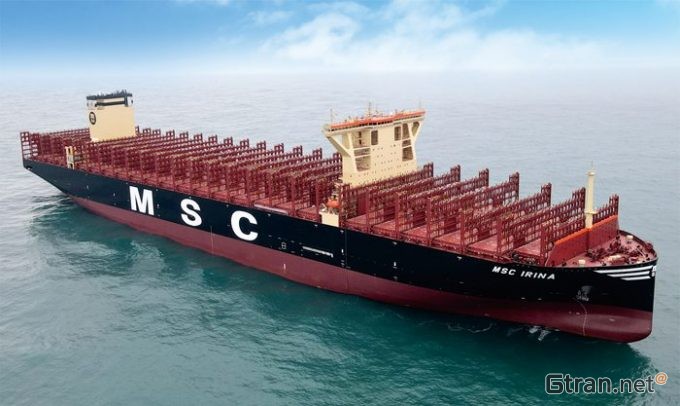 Both vessels are being phased-in to the 2M's Asia-Europe network and are understood to have already commenced their maiden voyages.
They are part of a series of four vessels being constructed for MSC at the Hudong Zhonghua shipyards of the China State Shipbuilding Corporation (CSSC), and as well as hybrid scrubbers, are equipped with drag-reducing air lubrication systems, which CSSC claims can reduce energy consumption by up to 4%.
However, by far the biggest savings will come from the cheaper bunker costs, consuming heavy fuel oil (HFO) instead of the more-expensive LSFO (low-sulphur fuel oil), thanks to the scrubber technology.
LSFO is showing a premium of some $150 per ton on HFO, which could reduce bunker costs on an Asia-North Europe round-trip by about $1m, and, given the sharp reduction in revenue per voyage, due to the collapse of freight rates, ocean carriers are refocusing on cost management.
And, according to a recent analysis by international shipping association Bimco, the number of ships fitted with scrubbers is on the rise again.
This follows a 24% year-on-year fall in scrubber installations last year, as high freight earnings boosted voyage result top lines, when 399 ships across all sectors were fitted with the technology.
"The share of ships with a scrubber is set to increase, as 17% of ships in the shipyards' orderbooks are expected to have a scrubber installed," said Bimco.
Meanwhile, another factor influencing carrier strategies is the impact of the IMO's Carbon Intensity Indicator (CII) regulations, which will require older vessels to have Ship Energy Improvement Plans and invariably mean a reduction in service speeds.
According to a recent assessment by valuation and market intelligence platform VesselsValue, the CII regulations are beginning to have an impact on the asset values of ships and, in due course, that will spread to the charter market in terms of different daily hire rates depending on a vessel's CII rating.
In the container sector, the impact of CII has been slower than expected, which VesselsValue attributes to "unprecedented high container rates dominating 2022", when "there was extremely high demand for all types of tonnage". It added: "We may see the effects emerge now container rates have returned to more typical levels."
It follows that ocean carriers will likely off-hire their older chartered-in tonnage, or seek to obtain significant discounts from owners to extend periods.