One year ago, there were more than 100 ships waiting outside the ports of Los Angeles and Long Beach, loaded to the gunnels with imports from Asia.
With premium fees, shippers were paying up to $20,000 to ship a 40ft container from China to the US west coast.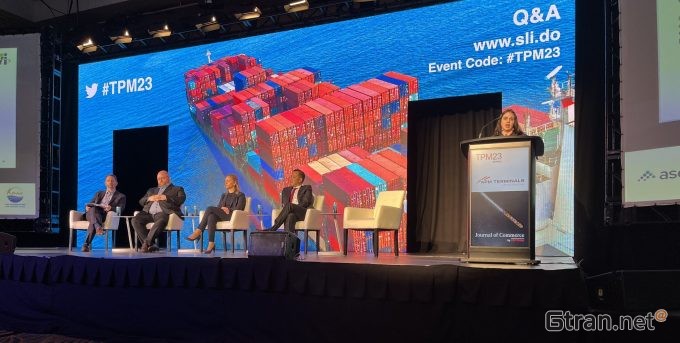 Just 12 months later, as the annual JOC TPM Conference at Long Beach gets into gear, there are very few containerships to be seen in the San Pedro Bay, and those that are discharging at LA/LB terminals came straight to a berth.
Moreover, much of the spot cargo, carried on sailings that have not been blanked, are earning the carriers just $1,500 per box, or less.
Hundreds of meetings will take place at TPM23, which over the years has become the traditional start of the annual transpacific contract rate negotiation season for new agreements from 1 May.
The roles have been reversed since last year, when shippers were desperate to send boxes at virtually any cost to secure their supply chains – even paying huge charter hire costs to deploy their own tonnage when carriers where unable to honour the minimum quantity volumes of the contracts.
A panel discussion on the first morning of TPM23 summed up the damage to carrier-shipper relationships by the supply chain crisis of 2021-2022, which the ocean carriers didn't create, but certainly took advantage of.
However, with demand having tanked since September, and millions of teu of newbuild capacity ready to hit the water, carriers are out in force at TPM23 trying to repair fractured relationships and get the BCOs back on side.
Rachel Shames, VP pricing and procurement at Norfolk, Virginia-based CV International, spoke passionately of the difficulties of working with carriers over the past two years, of 'non-existent' service levels when no one at carrier offices would pick up the ringing telephone or respond to e-mails.
Ms Shames, while noting that some carriers were prepared to offer new "creative" contracts offering BCOs flexibility, said many shippers might decide to continue playing the spot market, while there was so much uncertainty.
Indeed, one shipper told The Loadstar on the sidelines of the event that, although he had been prepared to honour his current contract terms, he had been able to reach a compromise with his carrier to use the much-cheaper spot rates the line was touting in the market.
"If I had not reacted and got those rates down, my boss would have fired me," suggested the BCO.
Meanwhile, fellow panellist Sea-Intelligence CEO Alan Murphy pulled no punches attacking the current strategy of carriers employing last-minute blankings, instead of temporary service suspensions, to address the chronic overcapacity on the transpacific and Asia-Europe tradelanes and at the same time discounting freight rates.
"The only thing that scares me more than shipping lines without money, is shipping lines with money," said Mr Murphy, referring to the fact that carriers have dollars to burn from huge profits of the past two years, and that they were being injudicious with their pricing, taking rates to sub-economic levels.