Indonesian intra-Asia carrier Samudera has earmarked $150m for capex this year, which will include acquisition of three 1,900 teu new containership resales from Japanese tonnage providers, with more purchases to follow.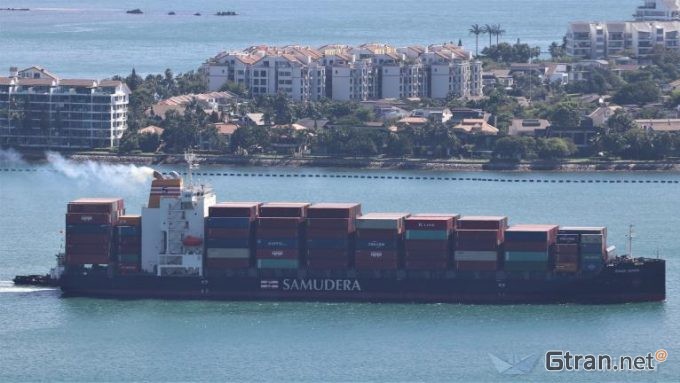 Samudera, which is listed on the Singapore Exchange, is understood to have bided its time, waiting for asset values to correct before replacing three 2008-built ships sold in 2021.
Last June, Samudera had accumulated $245m in cash, leading stock analysts to suggest the company could use some of its funds to buy ships, and group CEO Bani Maulana Mulia said two of the newbuildings had been purchased for $66m this month, to be delivered in Q4 24 and Q1 25.
While details of the newbuildings were not released, brokers suggest the vessels are likely to be among six 1,900 teu boxships Japanese shipbuilder Naikai Zosen is constructing for Doun Kisen and Osaka Asahi Kaiun.
In January 2021, Samudera took another Naikai-constructed ship, the 2020-built 1,664 teu Sinar Sunda, on a two-year charter from Osaka Asahi Kaiun.
Mr Bani said several more boxships would be purchased and Samudera was in discussions with vessel owners and shipyards. The company is the 39th-largest liner operator, with a total capacity of 33,432 teu on 10 owned and 18 chartered ships.
Samudera has not ordered newbuildings since 2017, when the company commissioned a pair of 609 teu vessels at Jingjiang Nanyang Shipbuilding in China. But its management believes the shipping market still looks optimistic, and is confident shippers will maintain a healthy demand for container transport within Asia.
However, Mr Bani acknowledged that with freight rates declining, Samudera's revenue and net profit were likely to be lower this year than in 2022.
Stock analysts estimate Samudera, also involved in dry bulk and tanker shipping, could have generated revenue of $1bn in 2022. In the first three quarters, the carrier recorded turnover of nearly $854m and net profit of $171.53m, up 93% and 233%, respectively, year on year.
Like its larger peers, Samudera has begun dabbling in the logistics sector, its parent, PT Samudera Indonesia Tangguh, entering a tie-up with Singapore-based PSA Corp in late 2021, tapping into PSA's terminal network and Samudera's feeder operations.