The 24,004 teu Ever Atop transited the Suez Canal over the weekend on its maiden voyage to North Europe, apparently less than three-quarters full, evidencing the severe contraction in demand impacting the tradelane.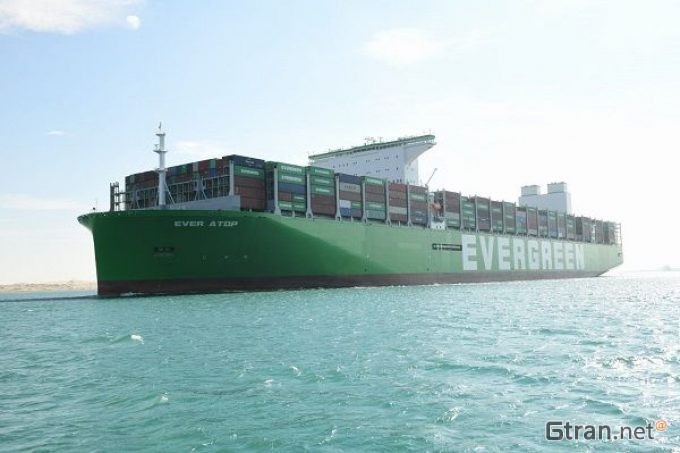 The ULCV was the final ship to be delivered of an order of the ten A24 series design for Taiwanese carrier Evergreen, and along with sister ships Ever Aria and Ever A lot holds the title of largest containership afloat, in terms of nominal capacity.
The newbuild is being phased into an Asia-North Europe Ocean Alliance loop, but the PR interest of a call at a port hub by the biggest containership afloat will be lost with the arrival of a vessel that is visibly extremely light on deck.
An ocean carrier will make every effort to maximise the load on a vessel's maiden call, even topping up the deck with empty containers to give a fully laden effect, so the sailing of the ship under-utilised, among a raft of other blanked sailings, shows how badly the market has deteriorated in just a few months.
Indeed, the earlier arrivals of Ever Atop's sister vessels were greeted with all the normal ceremony surrounding the world's largest containerships, when they arrived at their first port of call in North Europe, laden to the gunnels.
But a few months on, carriers are racking up some serious voyage losses on ships that do sail, and bleeding from high overheads with no revenue from the sailings they blank.
Notwithstanding that several carriers still have some tailwind from the boom period that is seeing some shippers honouring contract pricing and continuing to pay rates three or four times higher that the spot market average, the revenue shortfall in Q4, compared with carrier paired-down budgets, is likely to be significant.
And this could oblige the publicly listed carriers to downgrade their earnings forecasts for Q4.
Meanwhile, a UK-based carrier contact told The Loadstar last week they were at a stage where discounting rates seemed to be having little impact on bookings.
"The volume is just not there at the moment to support the network as its stands, and we are already blanking over a third of our sailings," he said.
The severe contraction in demand on the route has already caused the demise of new entrants, left with expensive charter vessels and daily hire rates they can no longer service.
"We need to somehow get over the Christmas holiday period and, hopefully, the orders will come back in ahead of the Chinese New Year," said the contact.
Nevertheless, the positive effect of the collapse of imports into North Europe has given overstretched terminals breathing space to better organise their facilities.
In Hapag-Lloyd's regular customer operational update for its North European container hubs, the carrier reported operations as 'normal' at all its terminals with sufficient yard capacity, reefer point availability and space for empty storage.