Kuehne + Nagel has received the first of its two own-liveried, Atlas Air-operated 747-8Fs, just as other forwarders cut their own controlled networks.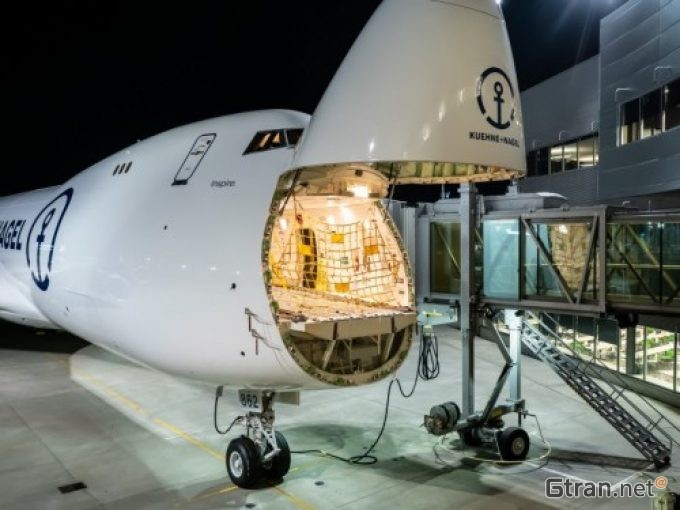 The Swiss forwarder signed up in February for the last two 747-8Fs to be made, which Atlas Air had ordered. The aircraft were originally scheduled to arrive in the third and fourth quarters.
While contracts details have not been made public, Atlas CEO John Dietrich added, as he announced the K+N deal, that it would operate for the forwarder "for years to come".
K+N said the freighter, named Inspire, would operate on the transpacific and would be "linked with K+N's intra-Asia network to provide customers with better connectivity within the growing region".
While Atlas and K+N said the 747s would provide a "highly reliable service, reduced transit times and minimised risks", they are likely to come at some cost. They also arrive as volumes are down and spot rates are sinking.
Other forwarders that contracted air capacity are not extending some contracts agreed during the Covid boom time as demand falls.
Neel Jones Shah, head of airfreight at Flexport, said: "It's a jumpy market right now, and there is uncertainty on the transpacific."
Rates from China to the US have fallen steadily, from the record high of $15.13 per kg in December 2021 to $6.34 per kg now, although they edged up marginally (2.3%) in the past week, according to the TAC Index.
Flexport is downsizing its Asia-Europe capacity, said Mr Jones Shah. It is ending a contract with JetOneX, which operated between Hong Kong and Liege twice a week and from Ho Chi Minh once a week.
"We are winding that down at the end of December and will rely on commercial capacity," he said. Flexport also has capacity with Atlas Air, on three 747-400Fs on nine rotations a week.
DB Schenker is also cutting its own controlled capacity, by 10 flights a week and is now operating 48 flights a week, down from 58.
It comes as the forwarder undergoes a major restructuring, which will see it create new clusters, as revealed exclusively by Loadstar Premium today.
DB Schenker confirmed the cuts, but has not yet said which routes it had axed, but a spokesperson said it was "constantly reviewing our service portfolio to match our customers' demand and adjust based on market developments".
Market developments could include retailer bans on using air. Forwarders told The Loadstar last week that some retailers had cut out airfreight.
"Many retailers are now trying to reduce or completely eradicate air freight," said one forwarder. "The 'repair' mode for critical demand-driven shipments has fallen off the proverbial cliff.
"Retailers are either sitting on unsold stock that needs to be sold, or simply decisions are made to not use air freight. Retail air freight volumes are down 90% with some customers, year on year, especially with the fashion/garment-focused ones."
A recent Unleashed survey of 4,500 SMEs in the UK shows manufacturers are holding double the amount of stock compared with pre-pandemic levels.