Zim has suspended its Asia US east coast ZSE express loop, with the last sailing performed by the 5,936 teu Ian H from Tanjung Pelepas, Malaysia, this week.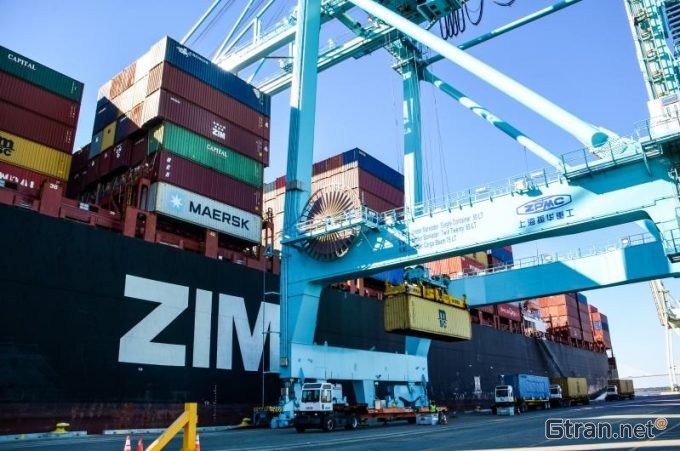 The Israeli carrier operated the service within its VSA agreement with the 2M Alliance, branded the TP23 by Maersk and Liberty by MSC, although Zim supplied almost of the tonnage.
Zim deployed nine 5,400-6,600 teu ships on the pendulum service, with 2M partner Maersk providing one vessel and MSC not contributing tonnage.
In addition to Tanjung Pelepas, the service also called at Cai Mep, Vietnam, and Yantian in China, before transiting the Panama Canal and calling at Charleston, Savannah and New York and returning to Asia via the Suez Canal.
Both 2M partners have offered their customers alternative connections via their respective networks in response to the suspension.
Meanwhile, according to John McCown's October analysis of the top 10 container ports in the US, import volume at east and Gulf coast ports grew 4.3% last month, compared with the previous year, to 1,111,131 teu.
However, an accelerating coastal shift from US west coast ports, where import throughput slumped by 23.3% in October, masked a total 9.4% decline in US import containers.
"October's overall inbound volume of 1,916,458 teu was the lowest since February 2021, and the second-lowest since July 2020," said Mr McCown.
Notwithstanding the growth in volumes on the US east coast last month, anecdotal reports to The Loadstar suggest that the demand outlook, even for the all-water transpacific services from Asia, is very poor, resulting in considerable downward pressure on freight rates and carriers being obliged to grant BCOs "temporary" rate reductions to their annual contracts.
Indeed, Platts' PCR5 Asia to US east coast component fell 12% on the week, to $3,700 per 40ft, when 12 months ago a typical FAK rate, including premium fees, was in excess of $20,000.
No doubt the collapse of rates on the transpacific prompted Zim and its 2M partners to suspend their ZSE/TP23/Liberty loop, given that costs of operating post-panamax vessels on the route had become sub-economic.
During Zim's Q3 earnings call last week, CFO Xavier Destriau admitted that on some transpacific services the breakeven point "had already been crossed".
And talking to The Loadstar, Mr Destriau said there was "great pressure" on its expediated services from China, adding: "We intend to be profitable in the trades where we operate and we don't wish to sail capacity at a loss."
Nevertheless, Zim now faces the considerable challenge of finding alternative employment for the nine redundant chartered vessels, or laying-up the ships.