South Korea's minister for oceans and fisheries has assured the country's container shipping companies his ministry will help them weather market challenges as freight rates continue falling.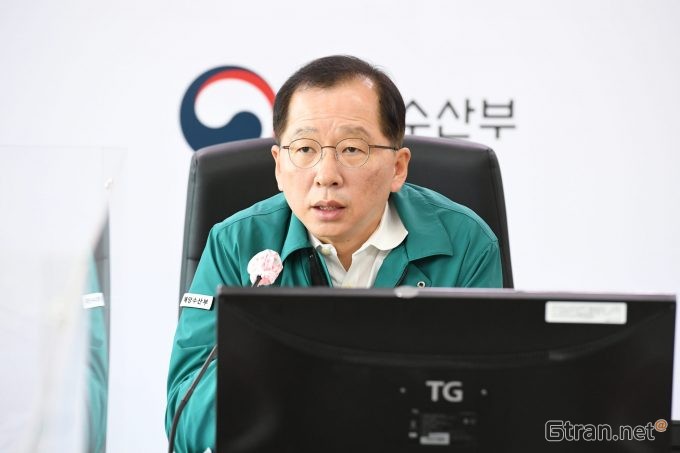 This is despite South Korea having been criticised for using taxpayers' money to bail out struggling enterprises.
Cho Seung-hwan met with representatives of HMM, SM Line, Sinokor and others, as well as state-backed ship finance provider Korea Ocean Business Corp on Tuesday.
The minister said, "We will do our best to maintain the international competitiveness of our shipping industry, no matter what difficult situation arises. I hope shipping companies will actively respond to the market with a more active attitude, thorough preparation, bold decisions and changes."
The ministry plans to strengthen companies' competitiveness via a KRW3trn ($2.1bn) fund, partly financed by dividends the state reaped from its shares in HMM, gained in a debt-for-equity swap in 2016. Korea Development Bank, KOBC, Korea Credit Guarantee Fund and the National Pension Service, all state-controlled, hold a combined 52% of HMM.
The Shanghai Containerized Freight Index, which tracks short-term shipping rates, dropped 67%, to 1,698, at the end of October from 5,110 in January, as port congestion eases and demand for consumer goods declines amid economic uncertainties and inflation.
The South Korean government is wary of a fallout last seen in 2017 when its largest liner company, Hanjin Shipping, collapsed.
The $2.1bn will go towards strengthening South Korea's container shipping capacity to 1.3m teu and help liner operators restructure, with a view to achieving total turnover of $43bn by 2027. $220m is set aside for mid-sized companies that need financing and, to respond to any shortage of shipping capacity, KOBC will acquire as many as 50 ships by 2026 for charter to local shipping lines.
Mr Cho said there was no immediate risk to the shipping companies, as they had amassed reserves over the past three years as container shipping profits soared. However, now the market has reversed, the carriers' financial performance is expected to weaken.
Drewry's Simon Heaney told The Loadstar there was a long history of governments acting to support shipping enterprises and, whether the South Korean government's action could be interpreted as state aid or a redistribution of HMM's profits,was debatable.
And Xeneta's chief analyst, Peter Sand, said the fund, while intended to support South Korean lines, could be wasted, from an economic perspective. He explained: "The fund is intended to shield the companies from the brutal market forces that lie ahead, but surely, the government takes other aspects into account. From a shipper/BCO perspective with South Korean exports, this may deliver cheaper options than competitors can deliver.
"If this is extended to other tradelanes, then competing carriers will surely cry foul. Previous history, nevertheless, tells us that success may be quite limited, and probably achieved at very high economic cost."