We here to announce that Ansun Cargo Services(Shenzhen) Co., Ltd join as GT China VIP member.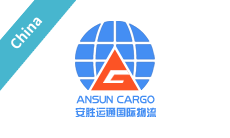 Company profile:
Ansun Cargo Services(Shenzhen) Co., Ltd. is an international sea - land - air freight forwarder located in China as a fully bonded and freight forwarder in China with over 15 years of experience combined.
We have grown to become a significant force among independent freight forwarders and our goal is to provide competitive shipping and air services from all main Chinese ports to all over the world. We tailor to the needs of our customers while maintaining one of the highest levels of customer service in the industry. At Ansun Cargo we want to make every aspect of shipping your cargo as easy as possible.
With our expertise, reliable and cost-effective services can be assured of quality performance at every level. We have our own branch offices and partners located in most main ports including Shenzhen, Hong Kong, Xiamen, Shanghai, Ningbo, Qingdao, Tianjin and so on. Our own overseas agent network is growing to encompass more than fifty countries and two thousand p which include Europe, Middle East, Africa and Asia. We can manage and operate Hong Kong, China mainland, and global business.
Our contracts with various shipping lines (COSCO, MSK, APL, HMM, UASC, MOL, NYK, MSC, YML, OOCL) allow for a broad range of international shipping services with guaranteed quality and space service at competitive prices. We have a great advantage in different lines such as Middle East, India & Pakistan, Southeast Asia, America & Canada, Mediterranean Sea, Black Sea, Australia etc. Our cost-effective, reliable, efficient, responsible sea freight services include:
1) Global NVOCC FCL & LCL
2) Cost-saving multimode transportation such as sea/air, sea/rail, sea/inland etc
3) Cargo pick-up and delivery
4) Spaces booking and allotment
5) Customs clearance and declaration
6) Fumigation, cargo inspection license, export license as agent
7) Timely, accurate, complete documentation
8) OT, OP, FR. PLATFORM, Reefer container booking & Transportation
9) Second-hand container purchasing and Selling
Should you need any support,pls always contact them and told them you are GT VIP to have further cooperation.
Contact person: Mr. Jack.Liang
GT Web: https://www.gtran.net/com/ansuncargo/