Describe Freight Transportation.
The transfer of commodities from one location to another is known as freight transit. Commodities, bulk items, and commercial goods are all considered common freight.
Around 90% of traded products are transported over the seas, making ocean shipping the primary form of transportation for international trade. Therefore, the oceans serve as the primary means of transportation for international trade. Both possibilities and difficulties arise from this.
According to the Organization for Economic Co-operation and Development, marine commerce volumes are expected to quadruple by 2050 due to an increase in global freight demand. Why are services for freight transportation important?
For instance, American loggers who cut down trees don't have their own ships to transfer the raw wood to Vietnamese furniture producers. Instead, they use a freight transportation firm to convey their lumber. Services for freight transportation handle the logistics and lifecycle management of shipment.
Management of freight movement may be challenging. Businesses and retailers may use a variety of services to arrange the modes and routes for their freight shipments and to manage the items while they are in transit till they reach their destination. In addition to understanding the best packaging practices, appropriate pallet techniques, and precise freight container marking to guarantee that the shipment is correctly handled, a reputable freight transportation service will also reduce freight damage.
What Kinds Of Containers Are Used For Shipping Goods By Sea?
By providing the best shipping route for their products, freight transportation services assist businesses in saving money. Different kinds of containers are employed depending on the load of a cargo.
Exact dimensions are employed in shipping containers to optimize ship space and minimize the possibility of empty cargo space. Usually 20 to 40 feet long, containers are designed to stack aboard ships like bricks.
Standard Containers, also known as dry containers, are made of steel or aluminum and are utilized for the majority of types of merchandise. These containers are normally 8.5 feet tall and 20 to 40 feet long.
High Cube Containers are 9.5 feet tall and identical to ordinary containers, giving shippers extra space. Standard containers may often be stacked on high cube containers.
Open top containers are those without a solid roof and instead feature a canvas or tarpaulin top. They allow the cargo to be loaded from the top and are used to transport bulky things like steel and lumber.
Flat Rack Containers – usually without sides, used to convey objects or equipment that are too big to fit inside a container. Merchandise is loaded from above or the side and lashed to the bottom for security. only the extremities of flat rack containers have support posts. Most containers for flat rack products can be stacked, depending on the height of the items.
Platform Containers lack end or side walls, making them similar to flat rack containers. It is perfect for transporting goods and machinery that won't fit inside a container.
Reefer Containers – A refrigerated container is used to carry cargo that has to be kept at a specific temperature, such meat, produce, and dairy goods. The electrical supply of the ship is connected to the refrigeration unit.
Shippers frequently have the choice to employ a partial or complete container in addition to the container type:
Less than Container (LCL) is used for small shipments that don't require a complete container and the shipper only pays for the space that is actually used.
Bulk shipments that fill a complete container are labeled as Full Container (FCL).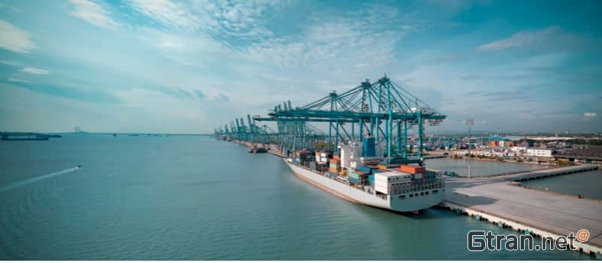 Which Mode Of Freight Transportation—Air, Land, Or Sea—Is Best?
Depending on what is being carried, where it has to go, and how fast it needs to get there, the choice of whether to employ freight transportation by air, land, or sea is made. To satisfy the demands of its shippers, freight transportation providers may utilize a combination of all three.
Because it is the quickest form of freight transportation, air freight transportation is frequently employed to fulfill tight deadlines. However, air freight containers are pricey and have weight and space restrictions. Unpredictable weather can also have a significant influence on an air freight container, delaying delivery by days.
For large freight containers, rail freight transit is more convenient and economical. Although they are more convenient for loading and unloading than air freight transportation, the shipping process takes a while and should not be employed if time is of the essence.
Unlike air and rail freight transit, which are reliant on port timetables, road freight travel is economical and easily accessible. But it takes a while and can't reach every place. Truck drivers may not be allowed to travel at specific hours in particular hurricane and storm-prone areas, making road freight transit occasionally an unreliable choice.
As mentioned above, maritime freight transportation is by far the most prevalent and widely used alternative. It offers full, partial, and bigger container freight cargo at cheaper prices and is utilized for international shipping. However, inclement weather can have an impact on marine transportation.
What Factors Should Be Taken Into Account While Planning Freight Transportation?
During the lifespan of a cargo, it's crucial to manage all hazards while handling freight transit. To evaluate the risks of product damage, it is necessary to take into account the items being sent. Take into account:
Size and weight of the items

Inventory size in number

Are the commodities liquid, dangerous, or delicate in nature?

High-value items require security.

Are the items appropriately packaged and transported on freight loads?

Where the items are going—whether they're going domestically, nationally, or internationally
Risk Management For Freight
Risk management for freight transportation is required to successfully minimize hazards. Risk elimination in transit is achieved by the use of risk management techniques, procedures, and technologies. It guarantees that the appropriate insurance is utilized and addresses problems with shortages, delays, damage to goods, loss, theft, and erroneous documentation. The use of transportation risk software, logistics consulting services, and cargo insurance are all components of implementing freight transport management. Predictive intelligence solutions for marine freight transportation are provided by Windward using marine AITM. With insights on ships and ocean freight containers as well as noticeably more precise ETA estimates, Windward's platform assists in reducing the risks associated with freight transportation.