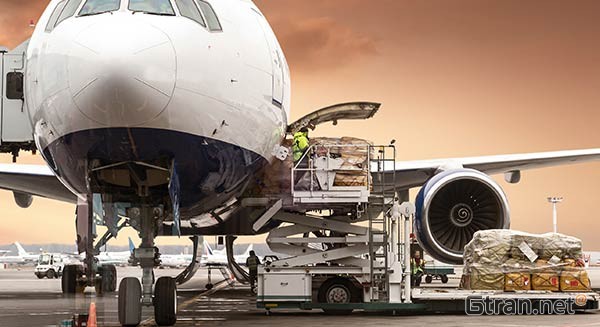 Cargo is usually moved on passenger aircraft but a cargo aircraft (also known as freight aircraft, freighter, airlifter or cargo jet) is a fixed-wing aircraft that is designed or converted for the carriage of cargo rather than passengers. Such aircraft usually do not incorporate passenger amenities and generally feature one or more large doors for loading cargo. Freighters may be operated by civil passenger or cargo airlines, by private individuals or by the armed forces of individual countries (for the last see military transport aircraft).
Aircraft designed for cargo flight usually have features that distinguish them from conventional passenger aircraft: a wide/tall fuselage cross-section, a high-wing to allow the cargo area to sit near the ground, numerous wheels to allow it to land at unprepared locations, and a high-mounted tail to allow cargo to be driven directly into and off the aircraft.
Air freight parcel delivery is the transfer and shipment of goods via an air carrier, which may be charter or commercial flights. Such shipments travel out of commercial and passenger aviation gateways to anywhere planes can fly and land.
The Advantages of Air Freight Shipping
The express shipping options of air freight make it a valuable option for coordinating time sensitive shipments to almost anywhere in the world. This can be particularly advantageous for smaller and mid-sized companies as it allows them to participate in international trade in an expeditious and effective manner. Shipping by air also offers the advantage of a high level of security as airport controls over cargo are tightly managed.
The Expansion of Air Freight Shipping
Used in conjunction with other forms of shipping, like marine, rail and ground, air freight became widely utilized as one of the central delivery options in importing and exporting at the beginning of the Twentieth Century. Growing exponentially as an industry during the expansion of trade networks and markets in the last 40 years, air freight is now regarded as an efficient means to ship nationally and internationally.
We provide our services in Air Freight as follows:
Air Export Shipments to worldwide

Air import shipments from worldwide

Airport to Airport Services

Door to Door Services

Express Air Services

Small Packages / documents / Courier Services

Consolidation / De-Consolidation

General Cargo & Hazardous Cargo Handling

Household Cargo by Air Handling

Air Shipments Handling / Packing/ Labelling / Marking