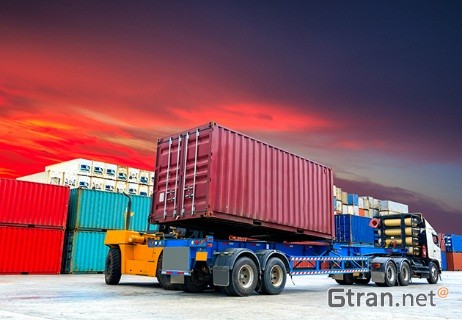 A truck or lorry is a motor vehicle designed to transport cargo. Trucks vary greatly in size, power, and configuration; smaller varieties may be mechanically similar to some automobiles. Commercial trucks can be very large and powerful and may be configured to be mounted with specialized equipment, such as in the case of refuse trucks, fire trucks, concrete mixers, and suction excavators. In American English, a commercial vehicle without a tractor or other articulation is formally a "straight truck" while one designed specifically to pull a trailer is not a truck but a "tractor".
Modern trucks are largely powered by diesel engines, although small to medium size trucks with gasoline engines exist in the US, Canada, and Mexico. In the European Union, vehicles with a gross combination mass of up to 3.5 t (7,700 lb) are known as light commercials vehicles, and those over as large goods vehicles.
8 Different Types of Trucks for Transporting Goods
Semi-Trailer Truck

Straight Truck

Jumbo Trailer Truck

Tail Lift Truck

Truck Trailer

Flatbed Truck

Lowboy Trailer

Refrigerated Trailers
Any Trade could not function without road freight, and so Adba Shipping has always offered a road service. Utilizing a variety of vehicles especially designed and chosen to maximum payload, (whatever your product), our road freight services are operated, controlled and coordinated by experienced and multi-lingual personnel to help to smooth the way.
We move your business from pickup to delivery. Our commitment to total customer satisfaction doesn't stop there. From 24-hour customer service, motivated professional drivers, the most technologically advanced fleets with a variety of options and service possibilities allow for maximum versatility in meeting unique and specific trucking requirements.
Adba Shipping's heavy haul has the equipment that can meet any challenge. Our heavy haul division will design innovated solutions for those over-weight and over-dimensional shipments. With national and international partners, each with very distinctive equipment, we offer worldwide door-to-door heavy haul transportation. Our massive database of equipment offers a variety of unique trailer configurations engineered in response to filling very unique customer demands.
Our flatbed division can offer you the most cost-effective and time definite service available today. Trans-National's flatbed haulers can offer rates as competitive as rail. Many shipments require that the main deck be free of walls or ceiling constraints and require a flatbed trailer for loading or unloading ease and speed. Our flatbed fleet can accommodate any type of surface shipment.
For most industries today, getting the product where it has to be safely, on time and at a price that fits the bottom line is one of their most important tasks. Trans-National can make that possible for buyers and shippers of liquid and dry bulk materials. Whether you're receiving inbound raw materials, or shipping the final product, Trans-National's network of carriers can get your load moved at strong competitive rates.
Our currently undertake sub-contract distribution services delivering a range of consignments from a single urgent parcel to several tons of produce via:
SAME DAY, 24 HOUR & 48 HOUR DELIVERY OPTIONS
TRANSIT VAN TO ARTIC EQUIPMENT
EXPRESS COURIER NATIONWIDE
TAIL-LIFT DELIVERY AVAILABLE
IN CAB COMMUNICATION