We here to announce that ALBA FREIGHT LLC join as GT UAE VIP member .
VIP Member ID:4317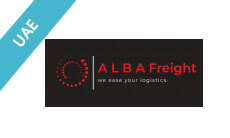 Company profile:Alba Freights is dedicated to fulfilling full-service global logistics needs with modern and technological cargo tracking capabilities. We want to deliver the best logistics solutions to our customers at the best price possible. Our logistics experts provide specialized and personalized solutions for every step of the freight forwarding process. Optimize your business by leaving the planning process to us!

Company Service:
Ocean Freight
Air Freight
Road Transportation
LCL
Reefer Container
Special Container
Should you need any support,pls always contact them and told them you are GT VIP to have further cooperation.
Contact person:Mohammed Siddique
Web:https://www.gtran.net/com/albafreights/
Should you have any problem about GT , I am here to assit.