We here to announce that European Shipping and Transport Agencies B.V. join as GT Netherlands VIP member.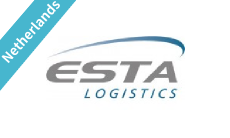 Company profile:
European Shipping & Transport Agencies, abbreviated ESTA, offers the best solution for all your logistics queries at home and abroad.
Whether you are looking for a party that organizes your sea freight & air freight, or are looking for a carrier who knows their way around Europe. We strive for a customer-oriented approach with attention to service and quality. For more than 55 years we have been providing tailor-made logistics solutions for all types of logistics. ESTA is the logistics service provider in the Netherlands. We believe there is a solution for everything.
Our company is specialized in managing logistics activities for various clients around the world for over 55 years. Since 2023, ESTA has been taken over by a new generation of entrepreneurs with a passion for logistics. We offer comprehensive solutions for managing the entire logistics chain, from the moment the goods are produced to their final destination.
Our logistics experts are highly experienced and have in-depth knowledge of the market. They work closely with our customers to understand their specific needs and provide tailor-made solutions that meet their unique requirements. For all your shipments to or from the Far East, Middle East, Africa, South America or the United States, our experts will help you.
We use the latest technologies and advanced software to provide our customers with real-time insight into the status of their shipments. This enables them to monitor the progress of their shipments at any time and to react quickly to any problems. Customer satisfaction is our top priority. We work hard to ensure that our customers are satisfied with our services and we strive to always meet their expectations. Our customers can count on reliable and efficient logistics services that help them achieve their business objectives.
In short, we are proud of our logistics business and ability to provide our customers with comprehensive and tailor-made solutions for managing their logistics chain. Our focus on quality and customer satisfaction is what sets us apart and makes us a leader in the logistics industry.
Should you need any support, pls always contact and told them you are GT VIP to have further cooperation.
Contact person: Mr. Dominique Roderkerken
GT web: https://www.gtran.net/com/estalogistics/