We here to announce that OWWE INTERNATIONAL join as GT Guatemala VIP member.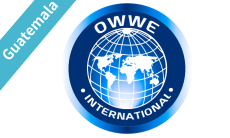 Company profile:
WE ARE A FREIGHT FORWARDER THAT PROVIDES EFFICIENT LOGISTICS SOLUTIONS TO THE importING AND EXPORTING INDUSTRY.
WE STARTED OPERATIONS IN GUATEMALA ON JUNE 17, 2007 OUR EXPERIENCE ALLOWS US TO HAVE THE NECESSARY EXPERTISE FOR THE OPTIMUM MANAGEMENT OF YOUR CARGO.
WE ARE A ONE-STOP SOLUTION BECAUSE OF OUR INTEGRATED SERVICES COVER ALL THE NEEDS THAT THE INDUSTRY MAY REQUIRE. WE HAVE THE POSSIBILITY OF HANDLING YOUR CARGO FROM MORE THAN 49 COUNTRIES AROUND THE WORLD BY SEA, AIR OR LAND ACCORDING TO THE REQUIREMENTS OF EACH SHIPMENT.
WE HAVE EXPANDED TO THE ASIAN, EUROPEAN AND SOUTH AMERICAN MARKET BOTH import AND EXPORT SERVICE.
CURRENTLY WE HANDLE AN APPROXIMATE VOLUME OF 2500 SHIPMENTS PER YEAR.
Main Service:
General/Air Freight

General /Ocean Freight

General /FCL

General /LCL

General / Road Transportation
Should you need any support,pls always contact and told them you are GT VIP to have further cooperation.
Contact person:Mr. JOVANNA HERNANDEZ
GT web: https://www.gtran.net/com/owweinternational/