We warmly welcome FAST FREIGHT join GT as GT Romania VIP member.

VIP valid time:11th,Feb,2022-11th,Feb,2023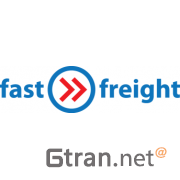 Fast Freight is a global scale logistic freight forwarder, offering worldwide transport services. As member of international transport networks, Fast Freight makes possible every cargo transport, with the right mixt of time and costs in order to satisfy our each client requests. With headoffice in Constanta, Romania, Fast Freight has a professionals team, with many years of experience in cargo transport which develop integrated logistic solutions, so we can satisfy our clients and parteners requirements. In 2010 we have extended our company by opening our own office in Castellon, Spain. We offer premium quality services since over 10 years at customized prices for every each client.
Business Scope:
LCL, FCL, OVERSIZED CARGO, SEA FREIGHT, INLAND TRANSPORTATION, AIRFREIGHT, WAREHOUSING SOLUTIONS
Should you need any support from Romania, pls always contact them and told them you are GT VIP to have further cooperation. contact details as below:
Contact Person: Stroescu Iulia
Web:https://www.gtran.net/com/fastfreight_ro/
Upgrade be GT VIP to see more info,pls fell free to contact Carol.